Welcome Jedi
If you are ready to finally grow your salon business and team and have the lifestyle you desire then this is your lucky day.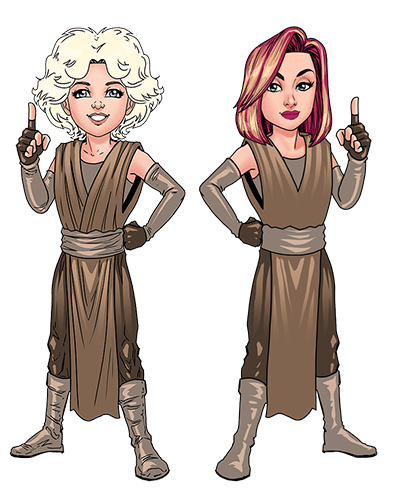 Salon Jedi is unique because we understand you because we are salon owners/managers too. We know what it's like to feel trapped on the tools when you really want to work more on your business not in it.
---
We know what its like to be so stressed sometimes you feel like shutting your doors and giving up because you are sick and tiered of staff issues and not making profits and yes we know your fears too.
Fear of staff leaving
Fear of failing
Fear of not making enough money
Fear of loosing it all
Fear of pricing what you should
Fear of being stuck where you are
Fear of making wrong decisions
We know what you really want, a thriving salon in the top 10% of salons with a high performing happy team who are super busy with a packed out column.
We know you want to get off the tools more knowing your salon runs without you, as well as it would with you. We know you want more money and success so you can spend more time with the people you love doing the things you love
We know this because we are not your typical salon coach who doesn't actually own a successful salon of their own today.
Right now as you read this we are running and managing our own successful salon brand with a high performing team getting exceptional results. We don't teach theory we teach what works for us, what we are implementing ourselves and getting the greatest results from.
We are salon business owners/managers just like you. We have felt the pains and the fears and almost closed our doors back in 2009 until we found the secret sauce to salon transformation. Our mission now is to share it with YOU.
Changing the mindset of you and your team is key to your transformational salon growth and it's only available through our Salon Jedi Academy.
You may have done other salon business courses in the past to try to grow and you may find it draining trying to motivate your salon team to perform at the level you want with little or no results and we are here to tell you it's not your fault.
The problem with these other courses and methods are, they don't cover the main reason you are not getting the results you want and not earning the money you deserve because they don't teach you how to lay the foundation for real salon transformation like Salon Jedi does, through our mindset training.
"The mindset of you and your team has to be transformed in a particular way to open the door to transformation to receive outstanding sustainable long term results.
You truly can achieve this when you not only upgrade your skill set with great business and marketing training but upgrade your mindset too."